In the sweltering heat of the Montreal summer, Casey Dobson was standing in the endzone of the football field at Percival Molson Memorial Stadium. As it approached halftime, the Montreal Alouettes were losing to their division rivals, the Hamilton Tiger-Cats, during a Canadian Football League (CFL) game.

It was the summer of 2019 and Dobson was an intern for the Alouettes as a press box runner. This job was Dobson's dream—finally, a chance for her to work in an industry she had long felt passionate about: football. Her job consisted of keeping the press box in perfect condition by making sure it was clean and well-stocked. Dobson also ran around interacting with broadcasters and updating them with the latest stats as the game progressed.

As part of her job, Dobson was standing on the sidelines waiting to escort the game's halftime performer to his different interviews and keep him on schedule. Wearing her Alouettes polo shirt and employee lanyard around her neck, she was standing alongside a female CFL broadcaster when a short, beer-bellied man stopped in his tracks in front of them. He proceeded to shoot them both a judgemental look, his narrow gaze raking their bodies up and down. "You're not cheerleaders?" he asked while waving his arms in a mocking manner. The woman next to Dobson pulled out her TSN-branded microphone and said, "No," indicating that she was a broadcaster. The man proceeded to check them out once again and walked away, but not before saying, "Well, you should be."

Women in sports settings often struggle to be taken seriously. There's a perception that their place in sports is isolated to only cheering on men from the sidelines with their pom-poms and that they have no knowledge of sports beyond that. This stems from the lack of representation for women in the field of play and in sports media, but that hasn't stopped women like Dobson from working to pave their own way in the industry.

Dobson's commitment to sports media has been unwavering. She's currently a first-year sport media student studying to pursue her dream full-time, but that incident has stuck with her throughout her life. "In that moment, I realized that I was voluntarily entering a space where people only perceive women as cheerleaders."

"Women make up 50 per cent of the population and they're still absent in sports media workplaces," says Laurel Walzak, an associate professor at the RTA School of Media and the director of the Global Experiential Sport (GXS) Lab at Ryerson University.

Walzak notes that while this culture is changing and inclusion is on the rise, there's still work to be done. In a male-dominated workplace, some women may still feel as if they aren't being championed internally or given opportunities, which can hinder their retention in these fields or their ability to move up the ranks.

A 2011 study conducted by two researchers from the German Sport University Cologne found that only eight per cent of sports articles were written by female journalists in 22 countries, including Canada and the United States.

Eight years later, the United Nations Educational Scientific and Cultural Organization (UNESCO) found in their own study that there's still a noticeable gap in achieving gender equality in sports media. "The number of women who enter into sports journalism is still relatively low, and this particular area of reporting remains a predominantly male-dominated specialty in countries all over the world," the study says.

Female athletes also experience heightened levels of mistreatment and entrenched disadvantage in sports in comparison to men, says Alison Doherty, a professor of sport management at Western University.

She says that one of the biggest problems that still persist in sport is the distinct differentiation between sports based on gender. "There's men's sport, and there's women's sport," says Doherty. But whether it's men's or women's sports, parasports or children's sports, they should all be valued and respected equally, she adds.

UNESCO has also found that women make up 40 per cent of athletes in professional sports, but only receive four per cent of coverage by sport media outlets around the world.

Shireen Ahmed, a freelance sports journalist and podcaster, says that in sport media people have been made to feel like they have to share crumbs in a competitive industry; especially marginalized folks. But in reality, there's more than enough space for everyone to thrive. "The biggest disservice is making us think that there's not room for us. That's the biggest travesty," she says.

Whether a woman is covering a sport or playing the game, gender inequality is evident at all levels of the industry. Without gender representation, women feel like they don't belong in sports as the industry isn't built for them, and continues to grow without them in mind.

Without equal representation, sports will continue to be a male-dominated industry that women will have to fight tooth and nail to be a part of. So, these Ryerson women took matters into their own hands.

In the eighth grade, Jyoti Ruparell was changing in the locker room in her first year of club volleyball when she realized how aware she had become about the way she looked. At 13 years old, insecurity began to make its way into the back of her mind as she compared herself to her other teammates.

Ruparell, now a second-year graphic communications management student and member of the Ryerson women's volleyball team, has always struggled with her body image—a feeling she says that other women also know too well.

"I think every woman, whether you're in sport or not, can relate to having these insecurities about your body and your body image," says Ruparell. She says there is constant pressure for women to look a certain way, which is amplified by social media trends and societal expectations.

Doherty says women may experience heightened vulnerability and insecurity based on the clothing and uniforms they're expected to wear. Women's volleyball uniforms typically consist of spandex shorts and a jersey top that almost feels like a second skin. Ruparell says that she has to unconsciously adjust her uniform during her games. It's only after, when she studies film replays, that she notices how many times she tugs at her outfit out of discomfort.

"All I want to do is just play volleyball. That's all I want to do, just have a good time with my team and win and be competitive [and] be in that very high-intensity environment," she says. "But in the back of my mind, I would always be thinking, 'Oh, like, do I have to adjust my shorts, I have to adjust my jersey.'"

According to a 2017 study in the Journal of Eating Disorders on body image among Italian university students, most women perceive themselves to be slightly overweight and wish to be thinner.

"Body self-esteem is strongly related to overall self-esteem, which is not surprising because the media in Western societies presents images of the ideal body," the study explains. It "wields pressure for women to have a very thin body and men to have a big and muscular body."

Ruparell describes herself as not fitting the norms of a stereotypical volleyball player to those that watch her play. Standing at five foot six inches with a broader frame, she isn't as tall as people expect a volleyball player to be.

Although she's now content with her appearance, this hasn't stopped occasional snide remarks coming off the lips of teammates and coaches in the past. She was always confused when former coaches would question her height and ask her if she had lost weight.

"Why do I have to look a certain way to play a sport that I love?" she says.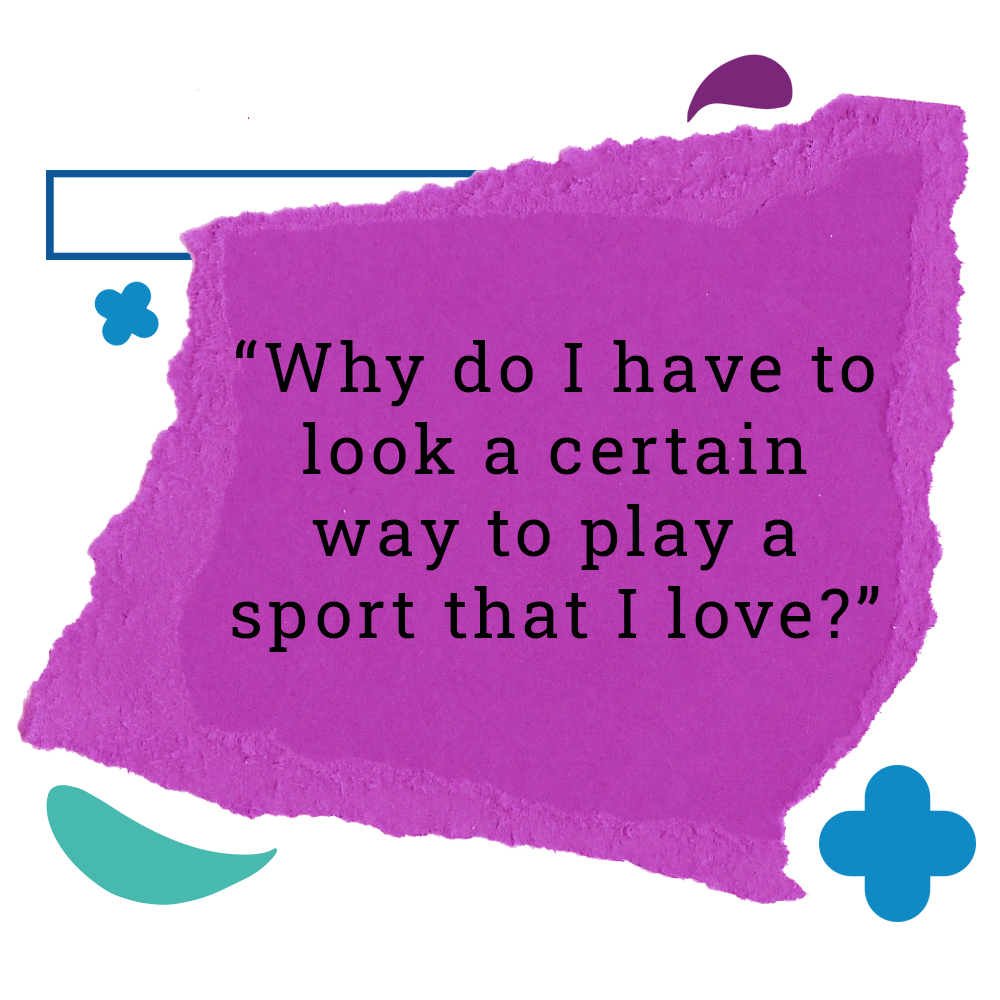 A 2011 study published in the Sports Journal found that 24.2 per cent of Division I female athletes and 30.7 per cent of Division II female athletes in the National Collegiate Athletic Association (NCAA) were either very or mostly dissatisfied with their overall appearance. The study says that while female athletes encounter the same societal expectations of body image, the pressure is amplified by sports. It also adds that coaches, sponsors and families all play a role in influencing an athlete's weight and shape.

Ruparell says that women in sports shouldn't have to feel insecure about their bodies and instead, people should pay attention to the sport itself.

"When you are a woman, everyone likes to drag everything in and they talk about everything else but the sport itself. It's just really frustrating."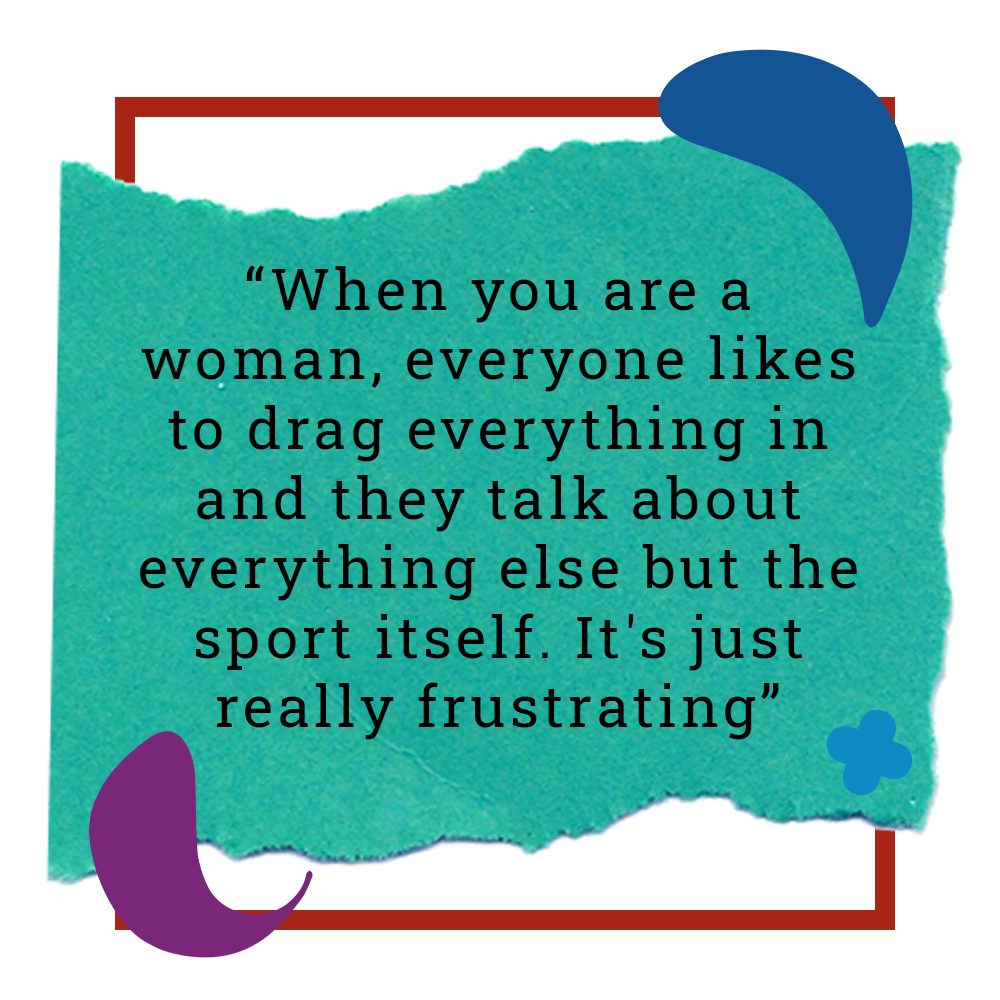 Doherty says that when it comes to body image, a woman's athleticism can call into question traditional ideas of femininity. There was a point in history when women had to be the essence of femininity, but sports flips that notion on its head, and she says this is a barrier to break down. Female athletes are powerful, strong and energetic. But as their athleticism is on full display, their femininity is called into question, she says.

"We are tough, we're competitive, we're fierce, or muscular, or powerful, we're strong. But we're still feminine," she says.

When she started playing club, Ruparell began to realize that very few other girls at competitions looked like her. To Ruparell, a stereotypical volleyball player is someone who is tall, lean and white—all characteristics she didn't possess. As a South Asian woman playing volleyball, she felt othered.

While she didn't experience overt racism due to the colour of her skin, she felt the weight of the cultural differences between her and her teammates. Ruparell had distinct priorities—school first, then volleyball. While the rest of her teammates were fixated on playing volleyball at high levels, school was always Ruparell's top priority.

In South Asian households, getting an education and giving back to your community is important, says Ruparell. "The values and beliefs that we hold in our culture are different. The way that we go about doing things is different and I don't think a lot of people [in sport] understand that."

Ruparell says that South Asian women playing sports is rare enough as is and it's even more unlikely for them to play sports at such a high level. "The lack of representation growing up made me feel like an outsider."

According to the NCAA Race and Gender Demographics Database, in the 2018-19 academic year, 44 per cent of varsity athletes were female. Of that number, only 11 per cent of athletes were Black, and no single statistic could be found about the number of Asian athletes because the NCAA combines them with Native Hawaiians and Pacific Islanders in their race and ethnicity totals.

According to a 2017 report on sports psychology, systemic discrimination has negative impacts on mental health and those climates directly impact athletes who represent two or more different oppressed or underrepresented intersections, such as race, ethnicity or gender identity. Environments within sports need to be intentionally created with the purpose of inclusion, the report concluded.

Ahmed says that women weren't always seen in sports and there is still a lack of representation, which matters. "There's just something so viscerally important about seeing your own possibility manifest somewhere."

"When young girls, particularly racialized girls... Black, Indigenous, young girls of colour, see themselves in positions of sports, it makes all the difference in the world."

Ruparell says she hopes to see more people of colour playing sports and especially playing volleyball. "When you see people doing big things and being successful and those people look like you, you have a little more belief in yourself that you can achieve the same things."

Growing up, everything Dobson did was in pursuit of her childhood dream: to follow in her parents' footsteps and work in a restaurant. Her first two jobs were in kitchens when she was 16 and she even appeared on Chopped Canada Teen, a televised cooking competition.

Although Dobson was set on her dream, her parents on the other hand wanted her to explore other career options because they knew the pitfalls of the industry all too well; working in the restaurant industry means long hours at night and missing family time. "I think both my parents were very surprised that I could ever want that kind of life," says Dobson.

Alongside this childhood dream, Dobson also had a steadfast passion for sports. This became clear one night while watching the Montreal Canadiens play the Boston Bruins in overtime in her basement. When the camera panned over to a closeup of Bruins defenseman Charlie McAvoy, Dobson instinctively said his name like an announcer, voice bellowing with authority through the room, which caught her dad by surprise. He questioned why she wanted to follow in his footsteps as a chef when she had a clear passion and talent for sports herself.

"That was always something I was good at," says Dobson. "I could name players and new stats off the top of my head." After that conversation, she realized that her passion truly did lie in sports.

As one of the few women in her classroom, Dobson understands that the industry wasn't built for her. "Being a woman in sports media is having to accept the fact that being good enough isn't enough," she says. "I know for a fact that I can walk into a room, I can be the most qualified person in the room, and I still won't get the job."

Ahmed, who is currently getting her master's in media production from Ryerson, says that the way classrooms and academia are structured also matters when it comes to representation in sports media. "If 80 per cent of your class is white young guys, who's going to grow up to be people in the media in those jobs?" she says. "It's going to be the same thing over again. Society is changing and sports media has to also."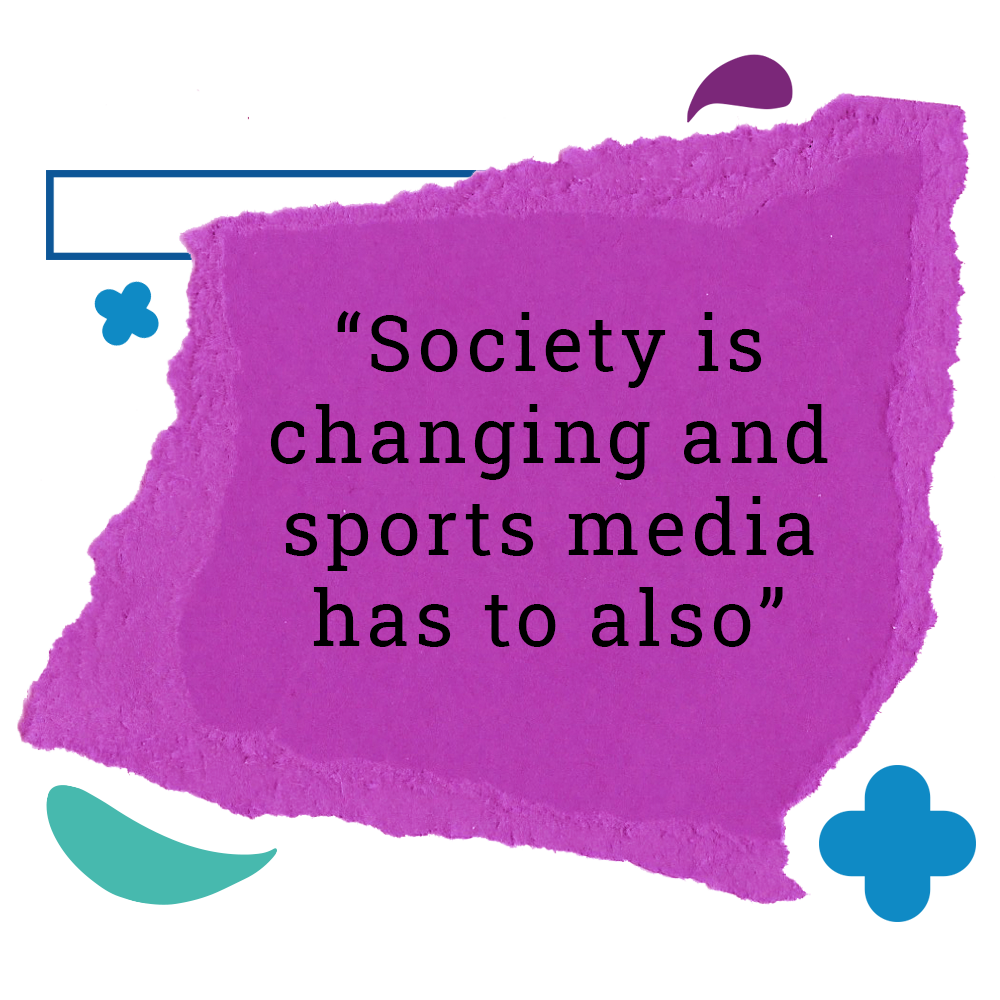 She adds that sports media is not what it was 10, five or even just three years ago. "It's shifting," she says. Ahmed, who hosts Burn It All Down, a feminist sports podcast, alongside four other women, says that when they started the show four years ago, they created space for themselves for something they loved and were passionate about. The podcast has grown with over one million downloads on streaming platforms and over nine thousand followers on Twitter.

"Because we're not getting opportunities in the mainstream…we created our own thing. I think this is beautiful. And it's powerful. And it's where the media is shifting; it's where journalism is going," she says.

"Women don't have to wait. They're being industrious. They're being creative. They're being intelligent. They're looking at what is out there, what the needs are and they're meeting those needs."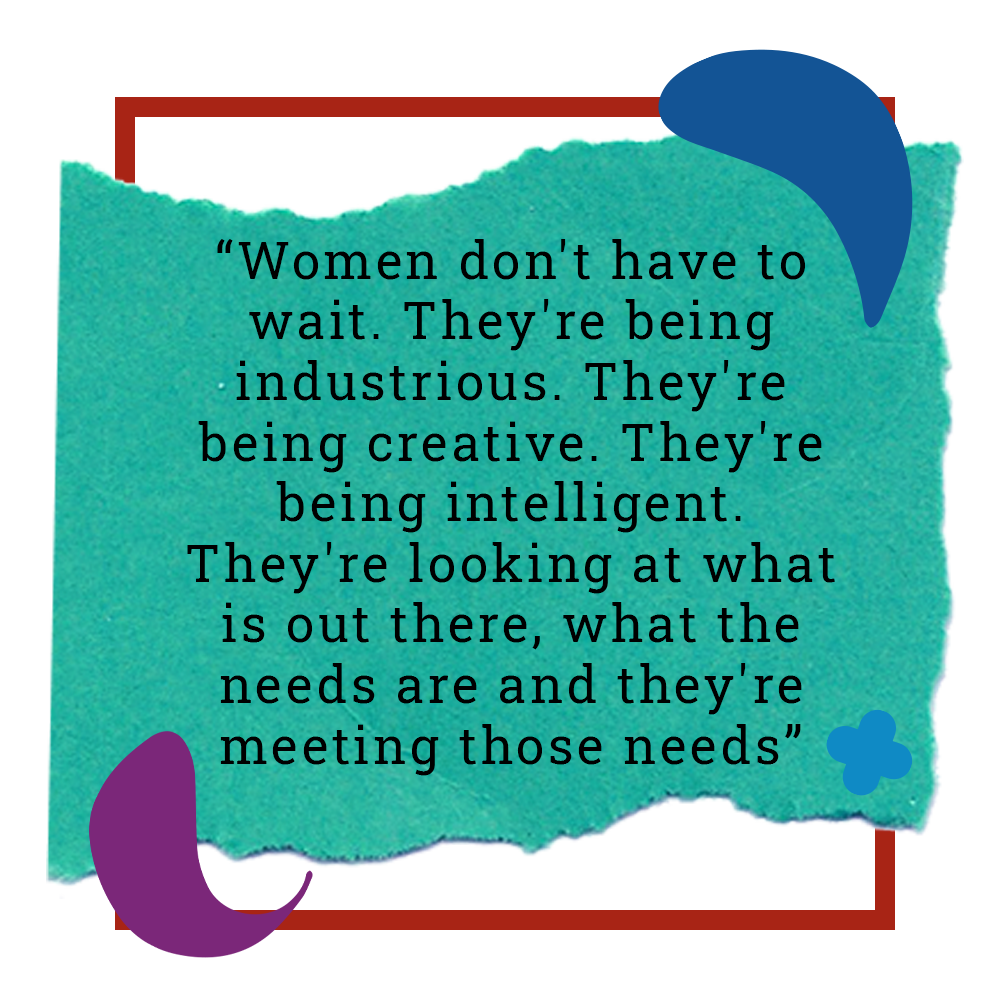 Dobson understands that the inclusion of women in sports still has a long way to go, but that won't stop her from trailblazing forward.

"I don't think there's ever been something where I've genuinely considered like, maybe I don't want to do this," she says. "I think once I committed to this career path, I've never really looked back."

With a dedicated motivation to continue to prove herself alongside other women in sports media, Dobson started Unbenched Sports in August of 2020. What was once a personal website for herself has now expanded into a sports media outlet, where fellow female sport media students can share their work. After conversations about the lack of opportunities in their sport media dreams, she wanted to create a space for women who are just starting out in the industry to get their work and voice out there.

"[Unbenched] is showing people that we're going to make our own chances. We can do this just as well, if not better than the guys that are doing the same thing."

Even though women have trouble breaking into the sports industry and their enthusiasm is seldom reciprocated, that hasn't stopped Dobson. "For me, it's motivation, it's 'I'm here to prove that you might not want me here but I'm going to give you no choice but to let me be here because I'm that good."